Devotions @ 8:15am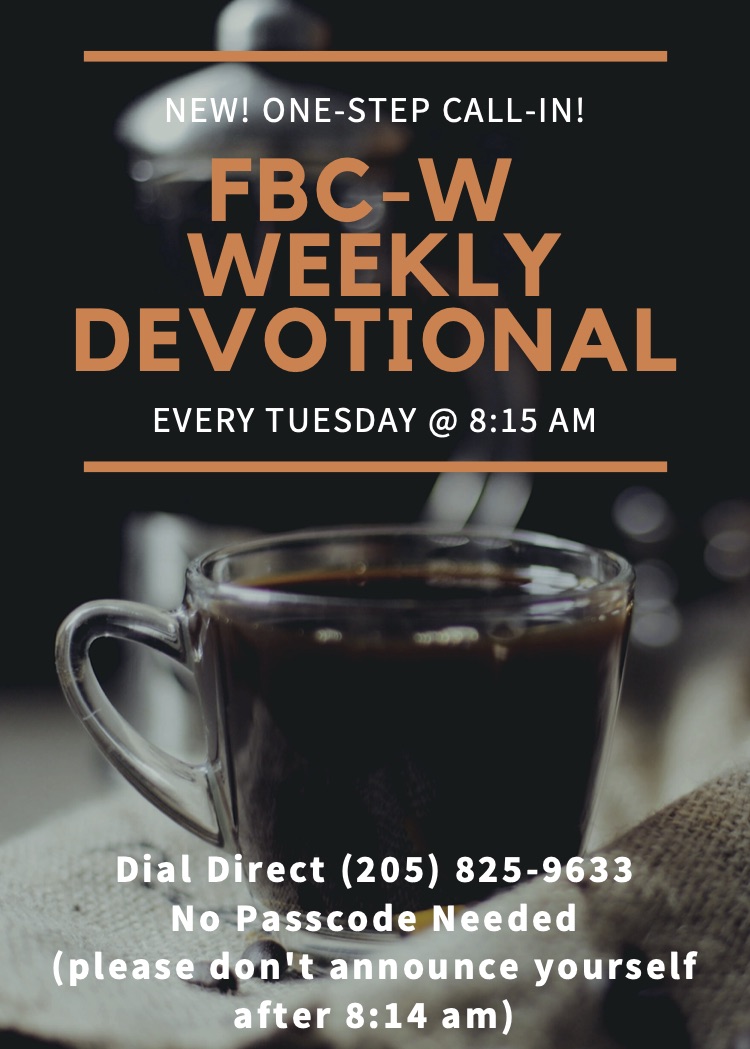 Text or Dial
Now you can text or dial to join our weekly devotions.
Just text CALL ME to (205) 825-9633 and freeconferencecall.com will call you. When you answer your phone, you'll automatically be placed into the call.
Why is this useful? If you happen to get a busy signal, texting is another way to get on the line. Freeconferencecall.com will call you from its network and circumvent any call congestion.

Or you can continue to call on our dedicated FBC-W number at (205) 825-9633.
Wednesday, July 22, 2020
7:48 AM
Wednesday, July 22, 2020
7:48 AM
Wednesday, July 22, 2020
7:48 AM
Romans 8:1- 11
Paul's letter to the Romans reflects what most scholars believe is his best theology work.

By the time Paul writes the Romans he has years to think through the meaning of being in Christ. Paul by now has spent years establishing churches, developing church leaders and building an infrastructure that allows churches to have a model for ministry that could be duplicated anywhere.


There are two driving points behind Paul's theology that he does not want the church to forever forget.

The first is that Jesus is a crucified Savior. Jesus died on the cross to pay the sin debt that all of humanity owed. Jesus died in our stead so that we might have life. The cross of Christ is what makes forgiveness possible and grace visible.

The second point Paul wants the church to always remember is the role of the Spirit. It is in Romans 8 that Paul speaks of the role of the Spirit that serves as a bedrock for Christian faith. Paul begins by saying that the Spirit removes all condemnation from us. Paul admits that we still sin and that we still fall short of God's glory even with our best efforts, but the presence of the Spirit removes all condemnation and we are free from guilt. The Spirit has set us free.

Then Paul declares the Spirit changes our focus. We are no longer concerned with the things in life that simply feed the flesh, but we now want to please God. The Spirit helps us to set our affections on the things that have eternal significance. The Spirit empowers us to live by more than the present moment. Next Paul says the Spirit lives within us. No longer is the Spirit confined to a temporary presence that aids only for a time, but the Spirit is now with us and in us. It is the reality of the Spirit being with us and in us that makes it possible for the Spirit to lead us. This is what makes us the sons and daughters of God, that we have God's Spirit residing in us.
The role of the Spirit in our lives is what gives peace, no matter the times, for we are certain as to who we belong. We are children of a loving father who has not left us alone and provided a guide, a keeper and a deliverer to be with us always. No pandemic can change that truth because it was settled at Calvary's cross.

There was once a train that was running down a track out of control. What made matters worse, another train was headed down the same track in the opposite direction. The passengers were all in panic with one exception--a little boy who continued to play with his toys as though nothing was wrong. Finally, the crisis was adverted by a skillful engineer who regained control of the train and switched tracks to safely bypass the impending danger.

A passenger asked the little boy why was he not afraid and how could he continue to play during the crisis? The lad responded, "My father is the engineer and he knows I am on this train. I do not have to see him to know that he is looking out for me."
Published on Wednesday, July 22, 2020 @ 7:48 AM EDT
0 comments