Devotions @ 8:15am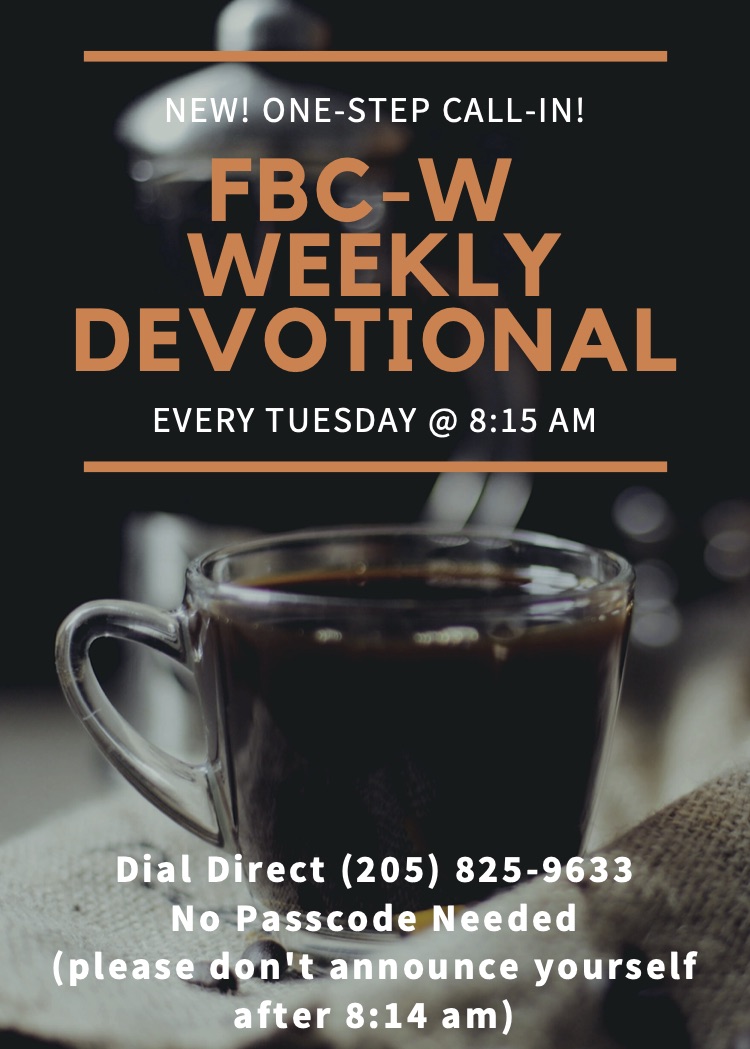 Text or Dial
Now you can text or dial to join our weekly devotions.
Just text CALL ME to (205) 825-9633 and freeconferencecall.com will call you. When you answer your phone, you'll automatically be placed into the call.
Why is this useful? If you happen to get a busy signal, texting is another way to get on the line. Freeconferencecall.com will call you from its network and circumvent any call congestion.

Or you can continue to call on our dedicated FBC-W number at (205) 825-9633.
Tuesday, July 28, 2020
4:32 PM
Tuesday, July 28, 2020
4:32 PM
Tuesday, July 28, 2020
4:32 PM
Genesis 32:22-32
The passage for today's devotion provides two great themes--kindness and struggle.
Jacob had left home years ago to escape his brother's wrath after stealing the family blessing. Now he is about to meet with the brother he had fled to escape so many years ago. The same brother who vowed to kill Jacob the next time he saw him.

Jacob's servants reported to him that Esau was coming with 400 men, nothing short of an army. During the night Jacob struggled with what to do to avoid Esau's wrath. Then the unexpected happened while alone with his thoughts--a divine presence appeared to Jacob.

The purpose of the presence was not altogether clear but what was clear is that anytime we encounter the Divine it is an act of kindness on God's part. Divine presence shows up to a cheater, liar and deceiver who has not demonstrated repentance. God's kindness comes in a form that could change Jacob's perspective of who he was and what he could be. It was solely the kindness of God that altered the course of Jacob's life.

Further reading of the narrative tells us about the kindness of Esau who did not take the promised revenge but forgave his brother and sought to start a new relationship with him based upon the bonds of family. Kindness is always in the power of another to decide to give or to withhold. Our lives are always made better when there are those who decide to give kindness.
The second theme in the passage is struggle.

There was Jacob's struggle with what to do about the anticipated meeting with Esau. How would he survive and what steps must he take to secure his family? Then there is the struggle with the divine presence that Jacob refuses to let go of until receiving a blessing. This struggle leaves Jacob marked in ways no other struggle has left him. Jacob is physically impaired and walks with a limp the rest of his days.

There is a cost associated with struggle and those that enter the struggles of life must be prepared to pay the cost. The struggles are the things that change us and helps us to see what has real value. The struggles are the things that mark us and remind us of the grace that has kept us and brought us thus far.

We need both kindness and struggle to emerge and become what God desires most of us. It is only through kindness and struggle that a crawling caterpillar becomes a beautiful butterfly. It does not appear what we shall be but when we see Jesus we will be like him. Amen.
Published on Tuesday, July 28, 2020 @ 4:32 PM EDT
0 comments