Welcome to Part III-March of our devotional series for the 90-Day Tithing Challenge. These devotionals are designed to feed your faith and to help you on your journey of deeper commitment to stewardship. Under this plan, you will read Monday through Friday. Saturday will be your day of grace and Sunday your day of worship and tithing.

To dive deeper, click here to access a sermon preached during this special season.
Dr. Ricky A. Woods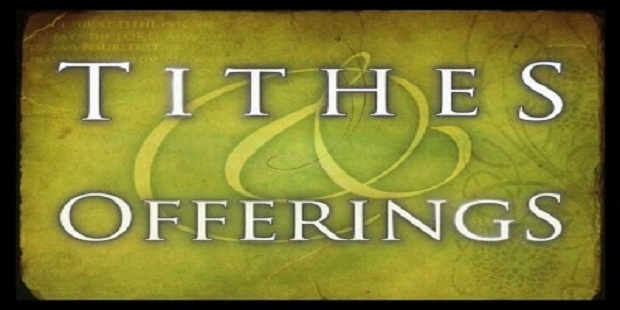 Monday, Mar. 14 Exodus 35: 20-29

In the National Baptist Congress of Christian Education, there was preacher some years ago named Rev. Luther. Rev Luther was one of the leaders in the Pastors Division teaching stewardship. He would close his session each day with these words: "Any church that has to survive on chicken dinner, rainbow teas and ice cream socials will be as dead as the chickens they serve, as weak as the tea and as cold as the ice cream." Rev. Luther's point corresponds with our devotional passage because when the people of God are moved by the Spirit and the word of God to give, there will always be more than enough for the work of kingdom building. Moses had to restrain the people from giving because there was more than enough. What a way to give.

One of my favorite examples on giving comes from a Mississippi washwoman named Oseola McCarty. For more than 75 years Ms. McCarthy took in other people's clothes and washed and ironed them. In 1995 she gave $150,000 to endow a scholarship fund for minority students at the University of Southern Mississippi. She gave another $100,000 to her church. Stephanie Bullock was the first minority student to be awarded the Oseola McCarty scholarship at Southern Mississippi. Ms. McCarty saved all of her life to use what she had saved to be a blessing to others. Who would have ever guessed such a feat was possible? Ms.McCarty is also the only washwoman to be awarded the Presidential Citizens Medal.

Wednesday, Mar. 16 Ruth 2:1-7

An abundance of possessions can easily make us forget that God is the source of all good. The story of Ruth is an example of the practical things the people of Israel did not to forget God and not to put too much trust in their wealth. Boaz was a wealthy man who obeyed the laws concerning caring for the poor and the stranger at harvest time. Israel was instructed not to harvest the edges of the field but to leave them for the poor who could glean them for themselves. It was all about knowing what to leave. Sometimes we are able to give not by what we give but by what we leave and make available to others.

Thursday, Mar. 17 Proverbs 23:4

When Americans think of the good life it is often associated with ever increasing material prosperity. However, we see case after case of those who are supposedly living the good life who are depressed, suicidal or addicted to chemicals. We must redefine the good life because genuine lasting joy comes from a right relationship with God, neighbor, self and the earth. The Proverbs writer was seeking to get his community to understand we can wear ourselves out in a pursuit of things in an effort to get rich. We need to know when enough is enough so there will be time, energy and opportunity to do the things that matter most--serve God and love our families and friends with our presence. Sometimes the greatest gift we can give is the gift of time. There is only so much of it for all of us.

Friday, Mar. 18 Philippians 4:15-20

The apostle Paul shared a special bond with the Philippians. Whereas Paul valued all the churches he worked with and helped to start, the Philippians endeared themselves to Paul in the ways they gave to him. The Philippians supported Paul in his mission efforts and the Philippians sent one of their own to see about Paul in prison and provided him with a special gift from the congregation. Whatever the gift was it brought cheer to Paul at a difficult time and told him how much he mattered to others. Their gift caused Paul to say, "My God shall supply your every need according to His riches in glory." There are some gifts that we can give that will cause God to meet every need that may arise in our lives because of the gift we have given to honor Him. Our gifts are one of the ways we come face to face with God's promises. #OurgiftsandGod'spromises.

Saturday, Mar. 19 Grace Day

Sunday, Mar. 20 We Bring Our Tithes and Offerings
Day 22-Mon, Feb. 22 1Kings 17:8-16
Sometimes when we look at the limited resources we have and all the demands upon them, it never seems to be enough. It was certainly true when the prophet Elijah showed up at a widow's house seeking a meal. Because of the famine in the land, the widow has depleted her resources and all she had left is enough for one more meal. Her plan was simple--she and her son would eat the last meal together and wait to die from starvation. However, Elijah told her to give to him first and then to feed herself and her son. The unnamed widow found enough faith, or bounded by codes of hospitality, to do what the prophet said. The result was indeed amazing. There was no overflowing barrel of meal or oil--only enough for another meal and it was enough for another meal until the famine passed. The widow's barrel never got full. It just never got empty. We cannot afford to wait until we have full barrels to give. We have to trust that in our giving our barrels will never get empty.

Day 23-Tues., Feb 23
J. K. Malone was a man in my hometown of Mebane who most people would never have thought of as as philanthropist. However, Mr. Malone made the gift of land to build a new school, Central High School, for African American students. In the space provided by an ordinary citizen, members of First Baptist Church-West attended and were given the chance to learn and grow. Central High School was changed to Graham High School after desegregation but without the gift of Mr. Malone, no place for change would exist. Our giving always changes something.

Day 24-Wed., Feb. 24 Haggai 1:1-11
The common mistake of life is to misplace our priorities, to make secondary what should be primary. This is the mistake Israel made when the returning exiles neglected to build a place of worship so the community could come together to worship God. The people had plenty for themselves but had not taken the time to give to the work of God or build the temple of God. After some time the people's resources stopped going as far and the prophet said they put money in bags with holes in it. When our priorities are out of line we can never seem to get ahead and the more we have the more things appear to slip away. May we always seek to make first things first and keep our priorities in the right place. Giving to God should always be a high priority because He has given us so much.

Day 25-Thurs., Feb. 25 Hosea 3:1-5
Love is never free but always carries some cost with it and there are some things in life we only do for love's sake. Hosea goes to the auction block to buy back a faithless wife. He carries with him to the auction everything of value he could lay his hands upon. Fifteen shekels of silver and one and half homers of barely was no small price for a prophet to come up. However, Hosea was able to come up with the funds and was willing to pay the funds to buy Gomer back because his bid was the only bid made that day out of love. Love is always willing to pay whatever the cost. God so loved the world that he gave his only begotten son that whosoever believes in him might have everlasting life. What are you willing to give for love's sake?

Day 26-Fri., Feb 26 Luke 16:19-31
The gospel of Luke more than any other gospel reports Jesus' position on how we are to relate to our possessions. Each case reveals Jesus' concern for economic justice. We are never free to ignore the good we can do without repercussion. The rich man is not condemned because of his wealth, the rich man is condemned for not using his wealth to address the needs of another at his very gate. The fact that we cannot do everything should never remove us from doing the things we can do. We all have the ability to do something so find what you can do and in the words of Nike--just do it.

Day 27-Sat., Feb. 27 Grace Day
Day 28-Sun., Feb. 28 We Worship and Bring Our Tithes and Offerings

Day 29-Mon, Feb. 29
Today is Leap Day--that special time when we get another day out of the year and more time on our calendars. Leap Days are special and they speak to us of how even nature itself is willing to give us more, to show signs of grace that are not always seen. Leap Day is just the right time to take a leap, a leap of faith to decide this day, this year I will trust God more and demonstrate that trust by giving Him more, more of my resources, more of my time and more of my ability. Instead of looking for more from God I will decide this Leap Year to give God more. #Give God More
Day 15-Mon, Feb. 15
A bumper sticker on a $41,500 SUV said: Do not let the car fool you. My treasure is in heaven. In 2005 Americans spent $27.9 billion dollars on candy, $15.2 billion dollars on boats, $100 billion dollars in fast food, $24.1 billion dollars on movies and $36.5 billion dollars on pets, toys and playground equipment. During that same period, even with the rise of mega-churches, giving to churches hit an all-time low. The average gift to the church as a percentage of income is 2.3%. This is not to suggest that spending on the things that Americans have spent are bad, only that the church could do so much more to bear witness to the gospel if it had more resources. We have at our disposal all we need to change the world if we would but place it in His hands.

Day 16-Tues., Feb. 16
The myth that many Americans live with is that our nation is wasting taxpayers' money on giveaways to the poor and foreign nations. In reality, America gives only less than one-half percent of GNP to foreign aid--less than in Western Industrialized Countries. America ranks next to last place in child poverty for Western Industrialized Countries. The fight for the soul of our nation is not a wedge issue over differences in social issues or protection of the borders and not even terror but in our failure to help the least among us. "What you have done to the least of these you have done to me," says the Lord. Tithing allows the church to increase what it can do for the least of these even if the government will not.

Day 17-Wed., Feb. 17 Micah 6:6-8
Rarely do people think of giving as social justice. However, each time we give it provides an alternative witness to a life of selfishness. Our gifts may become the means that lead to a better life for others such as a book for a child, a meal for the elderly, an educational opportunity for a student and sacred space where we can come together as community to worship. Giving allows us to share our concern for the larger world and allows us to be the instrument of grace at work in a broken world. There is more to the call of justice than to protest evil. There is also the call to do justly and one of the ways we do justly is to give.

Day 18-Thurs., Feb. 18 Acts 2:41-47
From the very inception of the church, the church was involved in the practice of giving. Giving for the early church had more to do with meeting the needs of those who were a part of the fellowship. The mission thrust of giving to those in need remains a larger part of the ministry of the church to this very day. A growing church is usually a generous church, a church that understands the role of grace in the life of the community. One of the ways the church is able to be a light on a hill in a world often in darkness is by not losing its capacity to give. Whatever the church is able to give is the result of those who have shared their own resources. In every generation the church is dependent upon the generosity of others to show generosity in the larger world.

Day 19-Fri., Feb. 19
Recently rap artist T.I. showed up unannounced at an Atlanta Wal-Mart on Christmas Eve. The rap artist then performed an unprecedented act of generosity. He told a store of working poor parents and their children to get whatever they wanted from the store for Christmas and T.I. paid the bill. After the parents and children had selected their items to be paid for, T.I. told them now go back and get whatever else you wanted but did not get the first time. A rap artist demonstrated the power of grace to break through the barriers of life to make life better for others.

Day 20-Sat., Feb. 20 Grace Day

Day 21-Sun., Feb. 21 We Worship and Bring our Tithes And Offering
Day 22—Monday, Jan 25 John 15:1-5
Jimmy and Minnie McKee, along with Cecilia Wilson, established the McKee-Wilson Endowed Trust to support young people at First Baptist Church-West to develop character, Christian witness and good citizenship. The trust supports a number of youth ministries at First Baptist Church-West and to date the church has received over $250,000 in support of young people. All of this from two retired school teachers and a small business owner as their lives continue to bear fruit long after they have departed. Our giving can speak for us when we can no longer speak for ourselves.

Day 23—Tuesday, Jan. 26 Luke 21:1-4
The gospel of Luke focuses on giving and the use of our resources more than any other gospel. Luke makes a clear connection between how faith in Christ is to be linked with deeds. In this text Luke makes note of a widow who although poor is not absolved of her religious duty to give as a part of worship in the temple. Her gift is given not as an investment where she is seeking some return; her gift is given as a believer who offers God what she has. Jesus acknowledges that the gifts that come from faith as opposed to gifts that come from abundance are the gifts that get God's attention.

Day 24—Wednesday, Jan. 27
Sarah Thebarge was diagnosed with cancer at the age of 27. Once Sarah got the news she left her job, moved out of her apartment and moved across the country thinking her life was over. She just wanted to get away. On a crowded subway one day a little Somali girl traveling with her mother and four sisters reached out to Sarah for her to hold her. Sarah took the little girl in her arms and started to talk with the mother. Sarah quickly learned they had only been in the country a short time, the father had left them and the mother and girls were on their own. Sarah decided to help as best she could, so she took them food and got her church involved to help them as well. However, Sarah wanted to do more. She wanted to give each of these girls a college education. But how? Working with the family took Sarah's mind off the cancer. Sarah wrote a book about her experience with the Somali family titled "The Invisible Girls" and the proceeds from the book go into a trust to pay for all five girls' education. Our lives are better and the lives of those around us are better when we focus less on ourselves and more on others. Tithing shifts the focus from God bless me to God help me be a blessing. #GiveLikeGodGives.

Day 25—Thursday, Jan. 28 Proverb 3:27
All it takes for evil to prevail is for good people to do nothing. One of the presidential pardons issued by President Bill Clinton was to Henry O. Flipper, the first African American graduate of West Point. Flipper had been falsely accused of wrong doing and stripped of his military commission. In every area of life we are all given the opportunity at some point to do good to those who deserve it. In those moments may we always have the ability to act. The church is nurtured by those who do not withhold the good they can do for her, which in turn allows the church to multiply goodness in the world.

Day 26—Friday, Jan. 29 Malachi 3:8-13
Malachi 3:10 is probably the most recognized verse in scripture on the subject of tithing. Malachi writes to call a people back to deeds of faithfulness. Because life was not going the way many had hoped, the people were blaming God and using their current difficulty as a reason not to give all that was rightfully due to God. The people always gave but they gave the lame, the sick and the leftovers to God and not their best. The Tempter does not mind our giving to God. The Tempter just does not want us to give in ways that demonstrate faithfulness. God's promise to the people is that if they will be faithful, He will remove the difficulties in their lives and He will pour out blessings that will overflow.

Day 27—Saturday, Jan. 30 Grace Day

Day 28—Sunday, Jan 31 We Worship and Bring Our Tithes.
Day 15—Monday, Jan. 18 Psalm 116:14
A common site in most churches is a communion table in the center of the sanctuary. The communion table in the church today would have been the altar in the temple in Old Testament times. When we see the communion table today, rarely is there a connection of the dual role the communion table has played in the life of the church. The communion table was not only the place where the sacraments of the church were shared but the communion table was a modern day altar where persons were able to bring both gifts and burdens at the feet of Christ. When the psalmist declared that he would pay his vows in the presence of the people, he was saying that he would bring his gifts to God at the altar so that all would know his allegiance. There are times when others are strengthened by the faith we model in paying our vows to the Lord at His altar.

Day 16—Tuesday, Jan. 19
An African villager used to pray that God would send a wealthy person to help his village because persons in the village were going blind because of the inability to afford a medical treatment that could prevent blindness. The villager only earned $51 a month to care for his family. However, God moved upon his heart that he could be the means to helping others avoid blindness so he gave $10 a month--almost 20 percent of his income. The money he gave was only enough medicine for one person per month but because of his faith over the years more than 100 children have their sight. How is your giving helping others to see?

Day 17—Wednesday, Jan. 20 Matthew 25:14-30
This passage covers the whole spectrum of stewardship in terms of money, ability and time. Each servant is given the opportunity to put their ability to work, working with what they have and the time given them to do. Two of the three stewards are commended for their effort even though they differ in the quantity of what they have been able to produce. The last servant shifts responsibility from himself and charges the owner with being unfair. The hidden message in this story is life is not about fairness but faithfulness. God wants to know can you be faithful with what He has trusted to your care and believe that you can use it for His glory if you do your part. Tithing is a call to be faithful even if the world is not fair.

Day 18—Thursday, Jan. 21 Ephesians 4:17-24
Life in Christ is changed life, a life different from the one we once lived in every aspect. The reason that life in Christ is different is because we no longer think the way we used to think. The believer does not just have a renewed heart but also a renewed mind. The ability to think differently means we no longer chase the things of this world whether they are material or otherwise. Life in Christ is a life of submission, surrender and sacrifice because our aim is not to please ourselves but to please Him who has called us out of darkness into the marvelous light. A life defined by giving as opposed to getting is how we model our Savior's work in the world today.

Day 19—Friday, Jan 22 Philippians 4:10-20
My father used to say to me: "Do I have to tell you everything to do? Look around for yourself and see what needs to be done and do it." The Philippians were the kind of people who did not need anyone to tell them to give. They could always see when there was a need in Paul's ministry and they gave to support that need time and time again. Tithing is not just about what we do with the ten percent we give to God but also requires us to consider what we do with the remaining 90 percent. The Philippians did not just support their own church but were willing to give even more to reach more and to do more because they had more. What will you do with the more you have?

Day 20—Saturday, Jan 23 Grace Day

Day 21—Sunday, Jan 24 We Worship and Bring Our Tithes.
Day One--Monday, Jan. 4 Genesis 14:17-24
This is the first time tithing is mentioned in the Bible and it comes as Abram's voluntary response to the blessing he had received from Melchizedek--the king of Salem and a priest to God. Following the blessing and the tithe given by Abram, another king--the king of Sodom--attempts to strike a bargain with Abram asking that the goods be given to Abram but the people to the king of Sodom. Abram is able to see that people matter more than things and refuses the offer. Abram's concern after he gives his tithe is not for things for himself but to ensure others are blessed. "I will take nothing but what the young men had eaten and the share of the men who went to battle with me." The principle demonstrated is that tithing is concerned more with giving to bless others as opposed to what one may receive as a result of tithing.

Day Two--Tuesday, Jan. 5

Albert Lexie was a shoeshine man in Pittsburgh, Pennsylvania, who was described as being developmentally challenged. For more than 36 years he worked at a shoe shine man. He first worked on street corners but finally came to work at a children's hospital. Albert considered his ability to shine shoes as a gift from God. One day Albert gave more than $200,000 to the children's hospital as a gift to help sick children. The money came from his tips over the years. Albert Lexie was willing to be the instrument God used to make life better for countless sick children by using what he had. God can do great things with the things we yield to him no matter how small they may seem.

Day Three—Wednesday, Jan. 6
Actions lead to feeling that lead to transformation. The question often raised when it comes to giving is does it really count if my heart is not in it? The answer is yes! Lacking the desire to give does not free us from the duty to give that our Christian faith expects of us. Giving as duty or obligation creates the habit and practice of giving that can lead to a change in feeling about giving and ultimately bring us to transformation about giving. The poet Walt Whitman stated the habit of giving only enhances the desire to give. John Rockefeller, the founder of Standard Oil Company and one the wealthiest people in the world, became a philanthropist in part because of a decision by one of his competitors. That competitor, Andrew Carnegie, gave away most of his wealth to charitable causes and helped to create modern day public libraries.

Day Four –Thursday, Jan. 7
Money provides us with freedom, choice and power. Money offers us the freedom not to be constrained by our day-to-day needs and desires. Money allows us to spend more time in leisure and pay someone else to do the task we do not want to do. Money offers us choices on what to wear, what to eat and where to go. Money offers us power. with enough money we can influence an election, control a group and shift the direction of the culture. However, the freedom, choice and power that money gives does not come without responsibility. The gospel of Luke makes that plain in two stories: the first a rich man that ignored the beggar at his gate. The second story of a rich man that built bigger barns and ignored what he could have done for others. In each story the rich men come to an end where their money is useless. As believers in Christ we are expected to use the freedom, choice and power of money in ways that honor our confession of faith in Christ.

Day Five—Friday, Jan. 8 Genesis 28:10-22
This is the second time in scripture the concept of tithing/ giving a tenth of what one has to God is mention. It should be noted in each case involving both Abram and Jacob that the offering of the tithe is not initiated by God but is what others decide to offer that they believe reflects generosity. What tithing does is reminds us of our promise to be generous with the One who has given us everything. It is not until Israel leaves Egypt for the promised land that God takes up the issue of tithing. Generosity no longer an individual decision but a community expectation for a people who live in covenant relationship with Yahweh. All the tithe of the land whether seed of the land or of the fruit of the trees is the Lord's, it is holy to the Lord. Leviticus 27:30

Day Six—Saturday, Jan. 9 Grace Day

Day Seven—Sunday, Jan. 10 We Worship and Bring Our Tithes.
Monday-Mar. 28 1 John 3:17-18
One of the primary expectations for Christians is the willingness to share with those in need. The reason for this expectation is the Christian view on possessions. Christians do not view their resources as their private property or private possessions but gifts made available by God to be used for His glory and our good. There are countless way that Christians are able to use their resources to do good but a way the Bible speaks most about are Christians' responses to the poor. We are to always be sensitive to the needs of those who are vulnerable and allow the grace of God to flow through us. For in so doing, we practice the faith we confess

Tuesday-Mar. 29
Christian Smith and Michael Emerson in their work "Passing the Plate" state that American Christians do not give their dollars evenly among themselves. But rather a small minority of generous givers among them contributes most of the total Christians dollars given. Were it not for a relatively small group of Christians who give of their money generously, American Christianity would go financially bankrupt and the ministries that Christian charitable giving supports would fold. Each time we choose to give generously we add to the number that is making a difference. We have in our hands the power to change the minority into a majority of generous givers.

Wednesday-Mar. 30
One pastor explained that a mentor told him early in his ministry career: "Do not try to get $10 out of person with $5 faith. You will not get it and it will only make them mad. Your goal as pastor is to grow, to help people grow spiritually so they have $10 faith. Then they will give it. Not only will they give it, but they will do so gladly and with joy. They will say 'I am a part of something really important and I want to give my best to what God is doing in the world.' "

Thursday-Mar. 31 Luke 19:11-27
It is the desire of every Christian to hear the master say "well done good and faithful servant." Whereas faithfulness covers a variety of areas, the place where Jesus places the emphasis on faithfulness is in how we treat the stewardship responsibility God has entrusted to our care. We all have received something from God and God expects us to use what we have received from him in ways that multiples its effect. It is not enough just to benefit from what God has provided for ourselves alone but we must be willing to be the instrument that God's grace flows through to the larger world. Being a steward is more than managing the affairs of another. Being a faithful steward means growing the blessings of God because we know what it means to be blessed. Now go and do likewise.
Monday-Mar. 7, John 6:1-14?
A little boy was given 25 cents for a trip to town one Saturday. He spent nine cents to get into the movies, five cents for a coke, another five cents for popcorn and still had a penny left for two cookies. (Yes, you could get two cookies for a penny in those days. I am a witness) There was one nickel that remained untouched. That nickel was for church the next day. The little boy had grown up in a family that valued giving to the church and he made sure he reserved his nickel to put into the offering plate. What lessons are we teaching our children about giving based upon what they see us do and teach??
Tuesday-Mar. 8
It is a widely held view that Jesus talked more about money than he did prayer or heaven. Although Jesus never gave anyone money, he practiced the discipline of giving. Jesus was always giving--giving his time, giving his power, giving his grace and ultimately giving his life. Jesus engages us more about money in our giving because for us money is where the discipline of giving begins. When we are willing to give money, we find we are willing to give time easier as well as service. Eventually we even learn to give ourselves because in the end what God really wants is us. Make a commitment to develop the discipline of giving as a holy habit in your life. You will be the better because of it.
Wednesday-Mar. 9 1Timothy 5:17-19
The early church was often supported by persons with a considerable wealth compared to the larger population. It is important to remember the Bible never condemns wealth or persons with wealth but the Bible does provide an admonishment and encouragement. The admonishment is that the wealthy are never to put their hopes in the uncertainty of riches. Riches have a way of coming and going as the housing and stock market crash of 2008 taught us. We should never be led to believe that wealth today is a hedge against what the future may hold. Next we are told to be rich in good deeds because it is God who furnishes us with everything to enjoy. Because God by His grace grants all that we enjoy, we have the capacity to be generous and liberal. Each time we give it is another way of affirming God's grace in our lives.

Thursday- Mar. 10 James 1:27
James Cash Penny was a dry goods store operator in 1898 and went on to start his own successful retail business in the store chain J.C. Penny. During the Great Depression, the J.C. Penny stores were known for giving customers a good value for their budget. Penny used some of the profits from his store to start a number of philanthropic thrusts. One of them was to build a retirement home for clergy. Penny even made provisions in the plan to allow the widows of clergy to live in these communities free of charge. Penny's giving ensured that widows had a place to live and true religion is measured by our response to widows, says the Apostle James. Penny was able to make such a commitment because he never forgot his religious upbringing and the words "it is more blessed to give than to receive."
Friday-Mar. 11 3 John 1:11?
The book of 3John is one of the shortest books in the Bible and in the verse that is our devotional passage today, it encourages believers not to imitate evil but to imitate good. The world of the Bible to biblical writers was divided into evil and good. There were no gray issues because the choices always appeared to be clear to them. The world today is far more complicated and the writers of the Bible could never have imagined the world we live in today. Therefore, we are in need of a moral compass that clearly points to the values we as believers are to embrace. One of those values is generosity. We should always reject any worldview that encourages us to isolate ourselves from others or to look for ways to defend our right to be selfish. Why? Because it is always good to be generous and whoever is good is from God.
Saturday-Mar. 12 Grace Day
Sunday-Mar. 13 – We Bring Our Tithes and Offerings
Day One-Tues.,March 1 Luke 6:32-26
Modern stewardship programs often embody unworthy appeals. As believers in Christ we should not be motivated to give for recognition (Matthew 6:1). We should not be motivated to give to receive something in return (Luke 6:32-36). Giving is simply the duty of a servant of God. Giving is a response to God's grace at work in our lives and allows that grace to be experienced by others in the gifts we give. May we always do our duty and remember to give.
Day Two-Wed., March 2 Proverbs 3:5-8
Kennon Callahan in his work "Giving and Stewardship In An Effective Church" identifies what he calls "giving doors." The six giving doors are spontaneous giving, major community worship giving, special giving, short-term major project giving, annual budget giving and enduring giving. Most people do not move through each giving door overnight. However, as we move through each giving door we discover something new about the grace of God and how that grace opens us to new possibilities. Possibilities to where the things we once thought were impossible are possible because we can see how God really can use us if we trust Him. This is the lesson that the Proverbs writer discovered when he encouraged persons to trust in the Lord. Trust in God can move us through every door in life we face--not just giving doors--but all doors. All because we serve a God in the door opening business.

Day Three-Thurs.,March 3 Hebrews 11:16
A few years ago a Christian lady told her husband she wanted to begin to give fifty dollars a week to the church. He thought she had lost her mind and spoke about how silly that was and it would only be a waste of good money. Finally he said, "You must be from another world for even thinking of doing something so crazy." The husband was right. Christians are from another world. Hebrews 11:16: "But as it is, they desire a better country, that is a heavenly one. Therefore God is not ashamed to be called their God, for He has prepared for them a city." We should never forget we hold citizenship to an eternal city that has been prepared for us and those like us.

Day Four-Fri., March 4 Matthew 6:19-21?
Jesus has a lot to say in the Sermon on the Mount and in Jesus' first public sermon, he does not leave out talking about giving. These words sound strange coming from a traveling rabbi without the financial support of the system of Temple Worship in Jesus' time. However, Jesus does not avoid the conversation about giving and why we should give. We should give because when we have more than enough it opens up opportunities for thieves to steal and time to waste away. We should give because in doing so we are transferring our resources and transforming them as well. When we give we create treasures in heaven. Someone once said you cannot take it with you--but you can send it ahead of you.

Day Five-Sat., March 5 Grace Day

Day Six-Sun., March 6 We Bring Our Tithes and Offerings
Day Eight-Mon., Feb. 8
Michael Durall in his book "Beyond The Collection Plate" states that "charitable giving is not an issue of how much money a church needs, but rather what we share to create and sustain lives of faith. I rarely review the budget in my own church because I believe we should be raising and spending more." A focus upon the budget as opposed to the congregation's ability to make a difference for Christ places the emphasis in the wrong direction. How different would our choices be if we asked "how can I make a difference" as opposed to "how much should I give?" The late Dr. Samuel Proctor, a nationally acclaimed theologian and educator, was told the story of a student who was about to leave school because his funds had run out. Just as the student was talking to Dr. Proctor about why he would have to leave school, the phone rang. On the other end of the phone was an unknown donor who had paid a part of the scholarship for Dr. Proctor to attend Crozier Seminary. The donor informed DR. Proctor that he had been following his career and progress as a university president and was so pleased that he wanted to help someone else and asked Dr. Proctor could he recommend a student he could help? Life changed for that student in that moment because someone asked "how can I make a difference?" A journey of giving helps us to make a difference.

Day Nine-Tues., Feb. 9 Romans 12:3-9
There are two places in the New Testament where Paul talks about spiritual gifts--1Corinthians and Romans. However, when Paul begins to list the spiritual gifts in Romans ,a gift shows up that has not been mentioned prior – the gift of giving. Paul says the person who gives and recognizes the spiritual gift of giving at work within them should give with liberality. The word "liberal" does not mean to provide a gift that is measured to determine how much is enough but to pour the gift out just as one would pour water on a dry plant. To pour out suggests that the giver is giving more than enough just as some of the water from the plant may spill out or settle in the vase but there is more concern about the plant than the water.

Day 10-Wed., Feb. 10
In the 1980's, former Chrysler executive Lee Iacocca was charged with the task of collecting funds to refurbish the Stature of Liberty. Iacocca received countless contributions from private citizens to large corporations. However, the gift that moved Iacocca the most was from a group of homeless Vietnamese refugees who passed the hat and gave $114.19. These persons had lost everything and were living in a strange land uncertain of what the future would hold. But moved by the meaning of liberty and the symbol of the statue, they gave what they could. How does the cross and the grace that comes to us because of what God has done for us in Christ move us to give?

Day 11-Thurs., Feb. 11 Galatians 6:1-10
Galatians is widely believed to be the first letter written by Paul and this letter closes by saying something about our responsibility as believers to give to support the work of ministry. Paul speaks of giving as an opportunity, a chance to do somethings that we cannot do by any other means but by what we give. Paul also knowledges the reality that there will always be demands upon limited resources and Christians are called not to be tempted to fail to give to God nor to grow weary in doing the right thing. Harvest time is a promise but exactly when the harvest will come is not stated. For Paul, the focus is not on the harvest but on providing a living example of what it means to be in Christ, placing His claims upon us above all others. May we, too, not lose heart or grow weary in doing what is right each time we have the opportunity to give.

Day 12-Fri., Feb. 12
Twenty years ago when I first arrived as the new senior minister of First Baptist-West, I got the idea about a ministry project I wanted to try. It was a two-week summer reading program to help young students improve their reading scores. Because the idea came to me in the middle of the year and the church's budget had been completed, there was no funding for the idea. However, a deacon and his wife decided to give $1,000 to help with the project. Their gift--along with other in-kind services from members of the congregation--allowed the program to go forward. Those gifts were the foundation for Charlotte Community Services Association (CSA) and its programs that have served more than 1,000 families and received recognition both locally and nationally for strengthening families and increasing our witness for Christ. Who knew?
Day 13, Feb. 13 Grace Day
Day 14, Feb. 14 We Worship and Bring Our Tithes and Offerings
Day One-Mon., Feb. 1 1Timothy 5:17-19
In 1976 from a small rural church in Georgia, something unprecedented happened. One family moved into the White House to lead the free world; another family moved to West Africa. Most know about the family that moved into the White House as President Jimmy and Rosalynn Carter. The second family was Jerome and Joann Ethridge. The Ethridges moved to the region of Togo where the people were without access to clean drinking water. Women of the village often walked 16 miles each day to get water. With the help of North Carolina Baptists, Jerome was able to obtain diesel well drilling equipment and drilled 167 wells capping them with hand pumps. Next, with a leased bulldozer, Jerome built 21 deep ponds to hold seasonal water provided during the rainy season. Jerome even stocked the ponds with tilapia, a fast growing fish to help provide food to the villagers. Jerome and Joann used their resources and their knowledge not to enrich themselves but to make the lives of others better. We all have the ability to be rich – rich in good deeds, liberal and generous.

Day Two-Tues., Feb. 2 Proverbs 3:9
The writer of Proverbs take for granted that the reader of the passage acknowledges God and understands that our lives should be lived in ways that honor God. There are many ways we can honor God: we can honor God with the praise from our hearts, we can honor God with the service we give in His name, and we can honor God with the worship we offer Him. However, the Proverb writer invites us to honor God with our substance and the first fruit of all life produces. The opportunity to tithe creates the space and occasion for us to bring our substance as an offering to God that demonstrates that even in these things we honor God.

Day Three-Wed., Feb. 3 Matthew 6:19-21
This passage comes from the first public sermon given by Jesus often referred to as the Sermon on the Mount. The Sermon on the Mount is more than the beatitudes and their words of blessing but there is also the challenge to rethink what should be valued most. Jesus' words remind us that we live in a world where resources we have gathered for ourselves can quickly escape us. Sometimes the resources lose their value over time as the stock market has taught us. Sometimes home invasions take away what we have so carefully acquired. But Jesus offers a safe place to put our resources to lay up for ourselves treasures in heaven. When we give we are not sending money to heaven ahead of us but we are sending a record of what mattered to us. Tithing allows us to express what matters most.

Day Four-Thurs., Feb 4 John 6:1-9
There are so many good things that can be done that only need a single donor. Lewis Cullman was the pioneer of the leveraged buyout. Cullman was one of the country's first venture capitalists and amassed a sizeable fortune. In 1986 a couple of chess enthusiasts started Chess In School, a program to help raise academic performance in struggling New York City schools. The program was a success as students in the program began to outperform their peers as well as some of the district's more successful schools. The program cost only $100 per student but could not expand its reach because of lack of funding. Lewis Cullman heard about the program and its success as well as its need. Lewis then gave $1 million and became an advocate for the program getting his wealthy friends to give as well. Today Chess In School operates throughout New York City schools and has spread across the country helping inner city youth achieve a sound education and clear opportunity toward success. It almost didn't happen--not because the idea was not good--but because of the need for a donor. The same thing almost happened hundreds of years earlier at the Sea of Galilee as a tired, hungry crowd following Jesus was in need of food in a place where no food was to be found. A single donor changed everything, a lad with one lunch made the difference and a multiple was feed. Great things are waiting to happen and can happen when there is just a single donor.

Day Five-Frid., Feb. 5 Deuteronomy 16:16-17
Giving is an expectation of the community in Israel because God had given the people so much. God had given them freedom from bondage, God had given them provision in the wilderness and God had given them His presence to guide them in a pillar of fire by night and cloud by day. Because of God's gifts to the people, the people were not to appear before the Lord empty handed at the designated time to give. However, God never asks for what the people did not have, therefore, giving was always proportional to the blessing of God in their lives. We too have received so much from God and should not appear before Him empty handed but ready to give as the Lord has blessed us.

Day Six-Sat., Feb. 6 Grace Day

Day Seven-Sun., Feb. 7 We Worship and Bring Our Tithes and Offerings.
Day Eight—Monday, Jan. 11 1Corinthians 4:2
The second most often used word in the New Testament to describe Christians is the word "steward." The word steward was used to describe someone who was responsible for managing the affairs of another. While performing the management responsibility, the steward had complete freedom to operate responsibly as he/she saw fit. However, the steward was never under the belief that what he/she managed was their own; he/she always knew there was an owner who one day would ask for an accounting of the steward's service. We should always remember that God has blessed us not as owners but as stewards to care for what He has placed in our hands. So may we be found faithful in giving Him what belongs to God.

Day Nine—Tuesday, Jan. 12 2Corinthians 8:1-24
The apostle Paul never mentions the word tithing and because of that many have argued that tithing is an Old Testament concept that no longer applies in the age of grace. Where it is true that Paul never mentions tithing, Paul does have a lot to say about Christians giving to support the work of the church and the needs of others. Paul urges believers in Corinth to support a mission effort to care for the poor in Jerusalem. Paul had received gifts from several churches and some of them not as affluent as Corinth. The Corinthians were lagging behind in their gifts and Paul writes two whole chapters in 2Corinthians 8 & 9 dedicated to the topic of giving. When the church gives its tithes and offerings, the church is empowered to do more in missions to support those in need. The one place the world looks for generosity the most is the church. May our abundance always make up for others' lack.

Day Ten—Wednesday, Jan. 13

The practice of tithing has long been the primary means the church has used to meet its needs and the needs of others. A portion of the tithes in ancient times went to support the maintenance and upkeep of the temple. A portion of the tithe also supported the temple personnel from the priest to the temple attendants. The temple did not seek funding outside the sources of those who benefited from the temple and its ministry. The church has followed the model of temple support through tithes and offering as its primary means of carrying out its ministry function. Each time we give our tithes we ensure the place and the people needed to minister to us are available and present. See "Temples, Tithes and Taxes: The Temple and Economic Life of Ancient Israel" by Mary E. Stevens.

Day 11—Thursday, Jan. 14
When our daughter Lauren was small there were three words that I repeated daily as a part of what it meant to carry the family's last name. Those words were brave, smart and good. Each time she was reluctant to accept a new challenge or started to doubt her abilities I always reminded her she was brave, smart and good because it came with the name. Some things just come with the name and with the name Christian comes faith, forgiveness and faithfulness. Tithing is about having faith, believing we have been forgiven so we are free to make different choices, and knowing God is faithful. Know that faith, forgiveness and faithfulness are ready to go to work on your behalf because some things come with the name.

Day 12—Friday, Jan. 15 1 Kings 8:62-66
The scene in the text is Solomon's gift to God during the dedication of the temple. The gifts that Solomon gives in terms of the number of sacrifices to God are so great that the bronze altar built to receive the gifts is too small to hold them. Do we ever offer gifts to God that are larger than our altars' ability to hold them? Should there be times when our own gratefulness to God becomes an overflowing blessing to God from us? Tithing grants us the opportunity to cover our private altars with the gifts for our King that tells the story of our love to Him.

Day 13—Saturday, Jan. 16 Grace Day

Day 14—Sunday, Jan. 17 We Worship and Bring Our Tithes
Starting January 2016, First Baptist-West will start the 90-Day Tithing Challenge.

Each member is asked to give 10% of their income to FBC-W as a witness of their faith, obedience and commitment to God and the church. The congregation will be asked to complete a commitment card that the Board of Finance will keep confidentially. Our public commitment will include testimonies about the power of being used by God to be a source of generosity.

Finally, the 90-Day Tithing Challenge will encompass a 90-Day Reading Plan to feed our faith on our tithing journey. It is my hope that this 90-DayTithing Challenge will place FBC-W on firm footing to become a tithing church that can use the blessing of generosity to change people's lives.

Therefore, in preparation for our 90-Day Tithing Challenge, I am asking everyone to prepare themselves to participate through a time of prayer, changing financial decisions and addressing any barriers to your decision to give to the work of the church.

It is my desire to have the entire church participate in the 90-Day Tithing Challenge. This Challenge is a way for us to deepen our faith and expand our ministry, reaching for the glory of God and the good of others.

Dr. Ricky A. Woods