AM & PM DEVOTIONS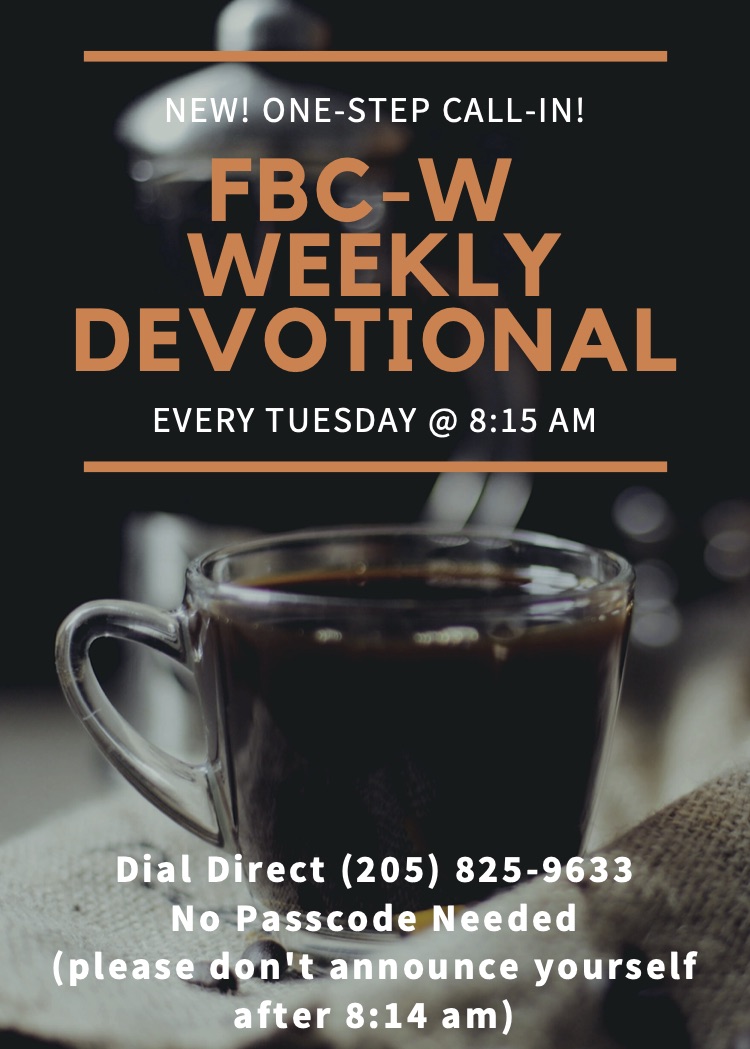 Call-In Devotions @ 205.825.9633
No matter how your schedule changes, you can now pick from AM or PM Devotions with our senior pastor Dr. Ricky A. Woods. Early birds can join at 8:15am and night owls can take advantage of our new evening devotion at 7:15pm. Either way, dial the SAME number -- (205) 825-9633 -- a few minutes ahead of the scheduled start time.

p.s. REMEMBER, DON'T ANNOUNCE YOURSELF AFTER THE START TIME AND PLEASE PUT YOUR PHONE ON MUTE!

Friday, September 25, 2020
12:13 PM
Friday, September 25, 2020
12:13 PM
Friday, September 25, 2020
12:13 PM
Matthew 21:33-43
When I was a boy growing up in my rural church it was not uncommon to hear the saints sing about going to the judgment. The only song I remember hearing my grandmother sing was a song about the judgment—"Judgment Bound." Pastor McLaughlin would sing "Have You Anytime for Jesus." The course of the song declared that soon the summons from the portal from that great mansion in the sky may be sounding your departure, you must then take time to die.
Those songs often led to outbreaks of praise and thanksgiving to God for the judgment. The judgment was the place where God would settle all accounts and those who had been marginalized, taken advantage and wronged would be vindicated. The judgment was also a place where those who had taken advantage of others, wronged others, destroyed others would receive their just due.
The parable in this passage is a judgment parable told by Jesus. The focus on the parable is upon just how outlandish the situation was described by Jesus. There is a man who has taken special effort to make a piece of property fruitful. He has planted a vineyard, built a fence to protect it from wild creatures, constructed a winepress nearby to produce wine from the fruit of the vineyard and employed tenants to work the operation. The owner had made every investment necessary to see the operation produce and only expected from the production a percentage of his investment back.
However, what occured is the tenants treated the operation as if it belonged to them. They refused every effort by the owner to collect only a small percentage of what rightly belonged to the owner. The tenants went further to commit murder--even the murder of the owner's son. Those listening to the story know that there is only one outcome for the tenants and that is they have to be brought to justice, they must give an account for what they have done.
The parable is told to shine light on how God's grace in Jesus Christ had been rejected by the religious leaders and many of the people. The ways in which our lives bear fruit are determined by our response to Jesus. Without him our lives our fruitless and we are driven by greed and power. This is a lesson in what we should NOT DO because we have time to respond to God's love toward us in Jesus Christ. If we fail to respond, rest assured the judgment is coming and it will be a day of dread--not a reason to shout.
0 comments