Devotions @ 8:15am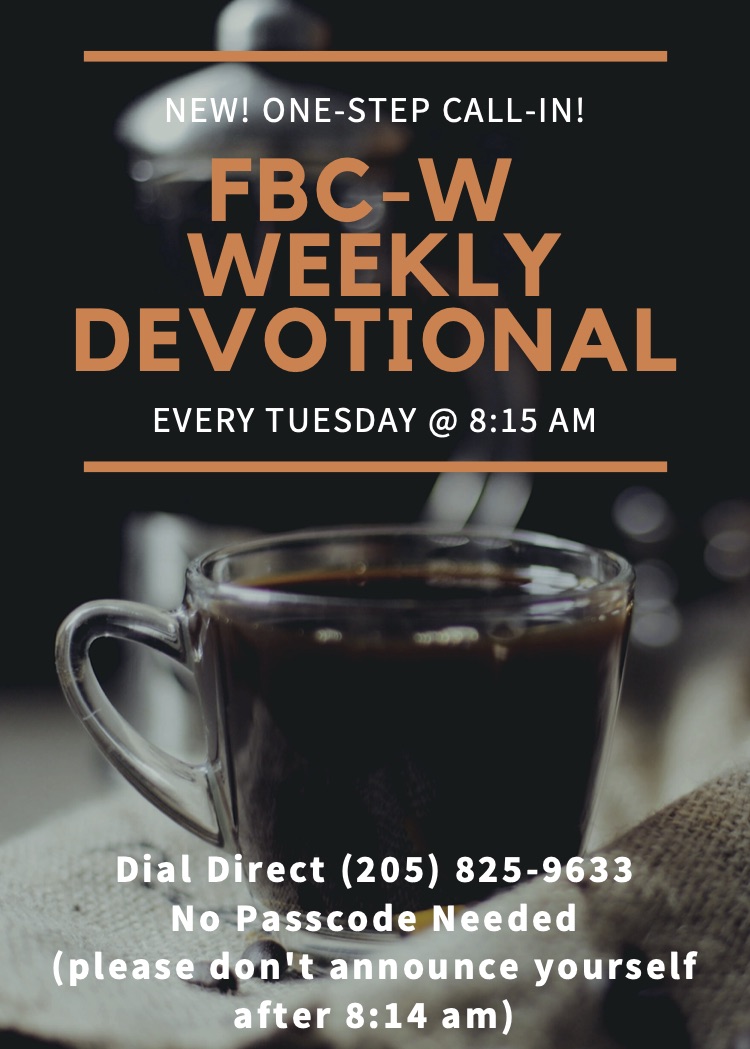 Text or Dial
Now you can text or dial to join our weekly devotions.
Just text CALL ME to (205) 825-9633 and freeconferencecall.com will call you. When you answer your phone, you'll automatically be placed into the call.
Why is this useful? If you happen to get a busy signal, texting is another way to get on the line. Freeconferencecall.com will call you from its network and circumvent any call congestion.

Or you can continue to call on our dedicated FBC-W number at
(205) 825-9633.
Sunday, June 7, 2020
6:12 PM
Sunday, June 7, 2020
6:12 PM
Sunday, June 7, 2020
6:12 PM
1 Peter 5:5 b&c
A dear friend has a saying that he often uses that declares you cannot be saved unless you confess. His point was the reluctance of persons to accept responsibility for being wrong. We live in a world of denial and coverup where persons will do almost anything to avoid accepting and saying they were wrong.
The original sin of America is a sin that the nation refuses to say it was wrong. America has constantly done everything it can do to deny racism, make us think that racism is something of the past with no bearings on the present and that people just need to forget about it and move on.
The problem is that each time we attempt to move on racism rises its head again and like the snake that it is, when it rises its head it bites. It bites in the re-segregation of school systems that lock minority students in failing schools. It bites in the uneven impact of COVID-19 in black and brown communities. It bites in a wealth gap due largely to the ways that blacks have been kept from access to capital for housing, businesses and health care.

However, there is no way that the snake bites more than in the policing of black communities and especially black men.
The deaths of Ahmaud Arbery, Breonna Taylor and George Floyd are the names of the most recent victims whose toll exceeds the Holocaust. In spite of all that we know that is undisputable, the nation refuses to repent and the snake is free to keep biting.
Peter the chief apostle tells his community in his first letter that they must be clothed with humility and their dealings with one another for God opposes the proud but gives grace to the humble. God stands in opposition to those who insist they are right when they are wrong and know it. God works against those who would allow pride to become a source of rebellion.
Much has been said about the recent protests in the streets of America but too little has been said about the snake and the pride of a nation that refuses to repent. Grace is what we need to restore our nation and our communities. Trust is what we need to work together to ensure the welfare of our land. Justice is what we need so peace can have a chance.
But none of these things will come until we cloth ourselves in humility in our dealings with one another because God opposes the proud but gives grace to the humble.
Published on Sunday, June 7, 2020 @ 6:12 PM EDT
0 comments