CSA
MOTTO
Excellence For All

MISSION
Changing the lives of Charlotte area residents by providing community-based programs of excellence.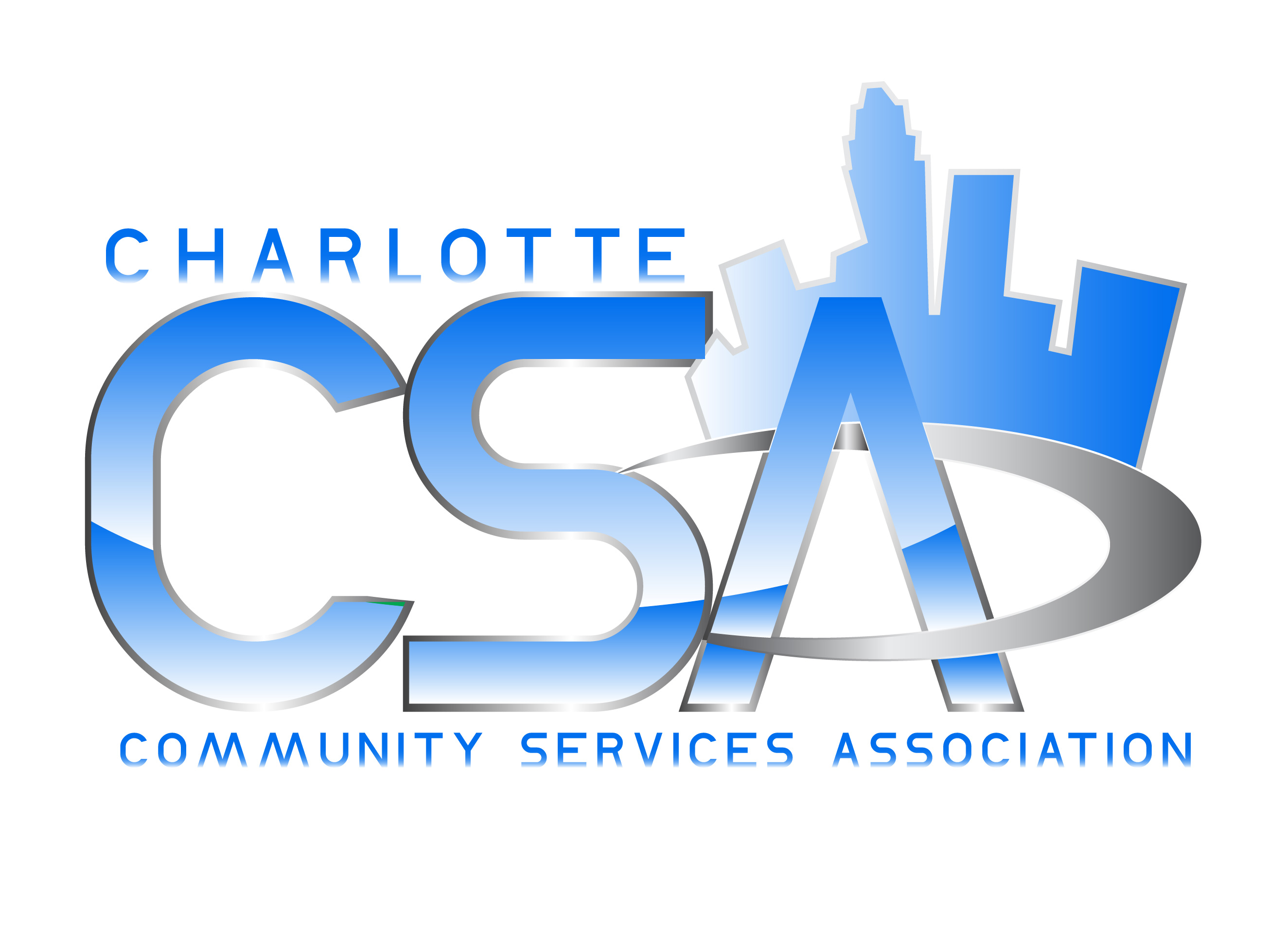 VISION
To be the community services organization of choice for Charlotte area residents by:
1) Providing best-practice programs in academics, social services, fine arts and health.
2) Promoting local, state and national collaborations.
3) Planting seeds of spiritual uplift among those we serve, employ and collaborate.

ORGANIZATION TYPE
Community-based, nonprofit agency with an independent board, budget and staff.

NUMBER SERVED
More than 6,500 in 12 years.

LOCATION
Five minutes west of downtown Charlotte in the First Baptist-West Family Life Center.
Board Members
Dr. Ricky Woods, Chair
Cindy Campbell, Vice Chair
Denise Bridges, Sec
Spencer Cochran, Treas
Leslie Berens
Jennifer Miles
Tim Mills
George Pettice
Mary Randle
Spencer Thompson
Marian Yates
Ruby Houston, CMS Liaison
Clara H. Jones, Ex-Officio
Program Partners
Above & Beyond Afterschool
Anita Stroud Foundation
Arts & Science Council
Charlotte Children's Theatre
City of Charlotte
Community School of the Arts
Discovery Place
Foundation For The Carolinas
Greater Enrichment Program
Johnson C. Smith University
Johnson & Wales University
McKee-Wilson Endowment
Mecklenburg County Community Service Program
Mecklenburg County Health Department
Mecklenburg County Juvenile Crime Prevention Council
NC Child & Adult Care Food Program
NC Department of Public Instruction
NC Summer Food Service Program
Oaklawn Language Academy
Public Library of Charlotte-Mecklenburg
Qcitymetro.com
MAIN PROGRAMS
Charlotte CSA is a 501(c)(3) nonprofit organization offering community-based summer, afterschool and gang prevention services to nearly 500 at-risk students each year. We operate on the core belief that all students--particularly those in need--deserve the very best.

We also firmly believe in results! Our afterschool and summer programs are intensive, academic-based offerings. More than 90% of our afterschool students have passed state tests and have been promoted to the next grade. Our GAP gang prevention program serves as a viable option to detention for high-risk youth.

Our main programs include:

GAP (Gang Alternative Principles) offers job readiness, financial literacy, anti-violence and skills training to males referred by the juvenile justice system, police and schools.
GAP Career Coaching & Mentoring targets high-risk males in a yearlong, intensive mentoring program.
Clara H. Jones Summer Institute provides fine arts and academic instruction to rising 1st-9th grade students, as well as STEM (Science, Technology, Engineering & Math) studies.
Music & Tutoring Afterschool Program is a 21st Century Afterschool Community Learning Center providing academic assistance and fine arts lessons to K-8th students.

Triple P Parenting Program offered to assist parents of children ages 6-12.
Click here for our latest annual report.

LEAD STAFF
The founding Executive Director is Patsy Pressley Burkins. She is a graduate of Howard University in Washington, DC, with a bachelor's degree in journalism. She has worked as a newspaper reporter, program coordinator with nonprofit organizations and development director. She is an FBC-W Sunday School teacher.

As Deputy Director, Beryl Miller is a licensed therapist with an undergraduate degree from the University of North Carolina at Chapel Hill and a master's degree from the University of South Carolina. Miller has worked for social service agencies with specializations in child abuse, foster care and parent education. She is an ordained minister.

The founding Afterschool Director is Patrice Thompson. She has an undergraduate degree in special education from Winthrop University in Rock Hill, SC, and a master's degree in special education from the same institution. Thompson has been an elementary teacher and a parent advocate in Charlotte-Mecklenburg Schools. She is also an FBC-W deacon.

The founding Choral Director is Herbert Johnson, now in his eighth year. Johson is a graduate of Winthrop University with an undergraduate degree in choral music education. He has more than nine years of teaching experience in NC and SC schools and has taught for Community School of the Arts. He is also a church choral director.
The Summer Institute Director is Dorothy Dae. She is a retiree of the CMS school system where she served as principal of J.T. Williams Middle School, assistant principal of Harding University High School, and in numerous other functions.
HISTORY
First Baptist Church-West has a distinguished history of working with children. For 14 years, church members tutored children at Oaklawn Elementary. The church also provided a summer reading program for a number of years.

In 2003, we put it all together with the formation of a separate organization to provide community services. We began providing summer and afterschool services a year later. We started with 50 summer students and 30 afterschool students and now serve nearly 500 students a year.

Our latest 990 can be accessed by clicking here.