CHARLOTTE –U.S. Congressman Jim Clyburn was the headline speaker for the inaugural "Touch of Gold Luncheon" on Friday, October 28, at the Ritz-Carlton Hotel Charlotte. Cong. Clyburn addressed "Faith in Action" at this fundraising benefit for the First Baptist Church-West Community Services Association (CSA).
"Congressman Clyburn was the perfect choice for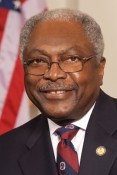 the first major fundraiser of the Community Services Association," said Dr. Ricky Woods, CSA Board Chairman. "What made him such an inspiration was his ability to show excellence, determination and integrity throughout a long career of public service."
Congressman Clyburn currently serves as Assistant Democratic Leader and is the third-ranking Democrat in the U.S. House of Representatives. He is also one of 12 members on the newly appointed debt reduction "supercommittee."
The son of an activist minister and beautician, Clyburn was president of the local NAACP youth chapter at age 12. While attending South Carolina State College, he organized and led civil rights marches, often noting that he met his wife in jail.

He started his career as a high school teacher and was later appointed the first black advisor to a South Carolina governor in 1971. He went on to lead the South Carolina Human Affairs Commission for 18 years, serving as a mediating influence under Democratic and Republican administrations.

"Congressman Clyburn's distinguished service truly embodied our theme of Faith in Action," said Dr. Woods.
The FBC-W Community Services Association is a community-based, nonprofit that promotes excellence in academics, fine arts, health and social services to Charlotte area residents. It is based in the First Baptist-Church-West Family Life Center at 1801 Oaklawn Avenue, but serves residents from throughout Mecklenburg County.
The Community Services Association is noted for its:
* GAP (Gang Alternative Principles) Program—the largest community-based gang prevention program serving Mecklenburg County.
* The Clara H. Jones Summer Institute – a fine arts and academic six-week program of instruction for 150 students each summer.
* The First Baptist-West Music & Tutoring Afterschool Program – a homework assistance program that offers piano, violin and art lessons and has a 90% EOG passing rate.
The GAP (Gang Alternative Principles) program was also recognized at the luncheon by the regional FBI office for its role in crime and violence prevention and education.
Luncheon co-chairs were Cindy Campbell, a Charlotte area realtor, and Marian Yates, NC Principal of the Year. Congressman Mel Watt of Charlotte was a program participant, as well as students involved in the afterschool/summer institute. The Luncheon's lead sponsor was AT&T of NC.