CMPD Chief Kerr Putney @ FBC-West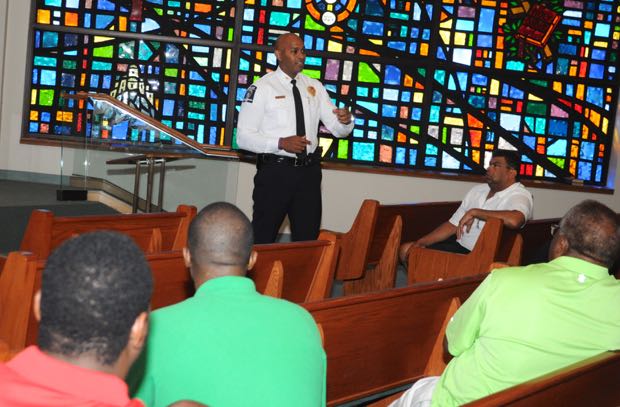 Speaking to a group of men at First Baptist Church-West, Kerr Putney, Charlotte-Mecklenburg's incoming police chief, said efforts deployed during the 2008 Democratic National Convention would serve as a model for containing any civil unrest that might occur during the manslaughter trial of former CMPD officer Randall Kerrick. (Photo: Glenn H. Burkins for Qcitymetro.com)Default Text
Qcitymetro.com
As the manslaughter trial approaches for a former Charlotte-Mecklenburg police officer who shot and killed an unarmed black man, the city's incoming police chief is pointing to efforts deployed during the 2008 Democratic National Convention as a model for containing any civil unrest that might occur.
Speaking to a group of men at First Baptist Church-West on Saturday, Kerr Putney, who will replace Chief Rodney Monroe on July 1, said the Charlotte-Mecklenburg Police department will encourage legitimate protest but will draw a line at violence and property destruction.
"Let's let the voices be heard," Putney told the group of about 30 men. "But what we cannot stand for is people who want to tear up this great city of ours, because there is too much of a price to be paid for that."
DNC as a model
Putney, currently one of five deputy chiefs, said the department's law enforcement efforts during the DNC went "fabulously well" and would serve as a model for any organized protests this summer.
"You saw the chief – Chief Monroe – out front, engaging with the demonstrators," he said. "We facilitated their right to have their message heard. We're going to do the same thing during the whole summer during this trial."
Story Con't
"We want people to have the freedom of free speech," he added. "…The police will help you. We'll facilitate that. We'll give you the avenues. We'll let you walk the streets. We'll give you designated areas where you're visible and you can get your word out. But what we cannot do is allow people to step across that line."
City leaders have expressed anxiety as Charlotte braces for the July 20 trial of Randall Kerrick, a white officer accused of illegally killing Jonathan Ferrell, a former Florida A&M University football player who moved to Charlotte to continue his education and to be closer to his fiancé. The trial is expected to focus the nation's attention on Charlotte and put CMPD's training and policies under a microscope.
No-win for CMPD
Putney said the trial would present the department with a "no-win situation," noting that Kerrick has a sister currently employed as a CMPD officer.
"Very sharp, very strong individual who's doing a lot of great work," he said. "She's as good as they come.
He added: "We have the officer's family, who's devastated. We have Jonathan Ferrell's family, who's devastated. Regardless of the outcome, we have to deal with the aftermath. ...Organizationally, we can't win."
Putney encouraged the church's male members, who were preparing for a special Father's Day service, to get involved in preserving peace.
"This summer, we will have a lot of people who will probably descend on the city, a lot of people from outside," he said. "…What we've seen is that, when we have strong black men who come out and make a stand against violence and criminal behavior…especially with the young people…they seem to listen to you more so than they would for me. They just do. You have a lot of credibility, a lot of respect because you come from the community."
A 'legitimate movement'
Putney said the growing outcry for police reforms nationwide has become a "legitimate movement."
"Officers have made mistakes," he said. "Whether it's been intentional or not, people are tired of it. I'm tired of it. Everybody in this room is tired of it."
Putney said, "the vast majority" of the nation's police officers "do great work, incredible work, heroic work."
"But there are a few who, I think, hide behind the badge," he said, tapping his CMPD shield. "This is the symbol of their manhood."
Putney praised Monroe and his commitment to community engagement.
"He's a legend," Putney said. "…I was blessed to have him as a mentor, and I'm blessed to have him as a friend. He did so many things that I have a passion for, that I can just attach myself to and kind of ride that wave."
A different approach
When asked how he might differ from Monroe in his leadership of CMPD, Putney said the differences would be "nuances."
Under Monroe, he said, "We were constantly fighting crime and measuring ourselves against last year's numbers... I want to go back to the community policing basis of making sure communities have an opportunity to set priorities, too. We can always fight crime. But there are some quality-of-life issues that we must emphasize as priorities as well."
Putney said working to better address the problems of vacant homes and vagrancy are two such issues he may seek to address.
He also said that, whereas Monroe was expert at building CMPD from "top to bottom, …I want to kind of reverse some of that. I want to make sure our officers are getting the leadership training…and then build that leadership from the bottom up."