GOSPEL EXPLOSION II
The second annual Gospel Explosion featuring the First Baptist-West Mass Choir and other local choirs will be held Saturday, September 27th, @ 2pm. Nearly 20 choirs have confirmed attendance for this gala event. The Gospel Explosion will be held in the main sanctuary with refreshments in the Family Life Center.

This event is sponsored by the Missions & Evangelism Ministry. For more info, see any member of Missions & Evangelism.
Make A Joyful Noise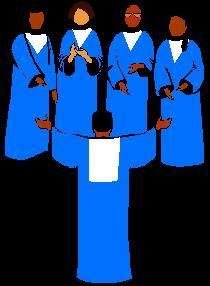 Now is the time to "Make A Joyful Noise Unto The Lord" by giving of your talents and gifts to one of the FBC-W choirs.

There's a place for you in the Mass Choir, Men's Choir, Women's Choir or Youth Choir. Prayerfully consider joining.
Performance Schedule
MASS CHOIR
Every 1st, 2nd and 4th Sunday

MEN'S CHOIR
Every 3rd Sunday

WOMEN'S CHOIR
Every 5th Sunday